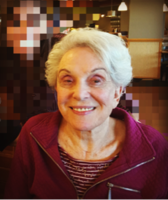 Beatrice Kahn Boykoff
Bea Kahn Boykoff, Devoted Community Leader, Dies at 92
With much sadness, we announce that our beloved Beatrice Kahn Boykoff (nee Mondschein) has passed away at the age of 92. A mother, a wife, an aunt, and a friend, Bea was loved by all who knew her. Born in Chicago in 1925 to Rose and Leo Mondschein, Bea was a close and loving twin to sister Beverlee, often dressed alike by their mother. Bea and Beverlee joined older sister Adele in this now family of five. Athletic and outgoing, Bea married her husband Marvin, also from Chicago, and they settled in Los Angeles in 1948. Their daughter Ava was born in 1951, and Bea filled her life with taking care of Ava, as well as creative and social activities including flower arranging and golf. Active in the Westside YMCA, she was a regular participant in the early morning exercise classes there until she was nearly 90 (and even won a "Senior Olympics" award for track), and worked tirelessly to raise funds for memberships and camp experiences for children who couldn't otherwise afford them. After the passing of Marvin, Bea remarried to her second love, Harry Boykoff, and together they enjoyed a full and active social life. Through Harry, she gained children and grandchildren. Bea loved spenting time with Terry, his wife, Laurie, and their children, Lauren and Megan. She travelled to many exotic locations in Asia, Europe, and Israel. In addition to spending time with Ava and her husband Mitch, Bea loved entertaining her many friends. She always had a kind word or compliment for everyone she met, and her enthusiasm endeared her to all who knew her. Out of a commitment to her community, long-time friends, and a desire to give back, Bea took on the position of President of the Bel Air Association and served on the Board of Managers of the YMCA for over twenty-five years.
Bea is survived by her daughter Ava and son-in-law Mitch, the Boykoff family, as well as many nieces, nephews, cousins and friends.
In her memory the Bea Kahn Boykoff Youth Scholarship was established at Westside YMCA.
Bea Kahn Boykoff Youth Scholarship
C/O Collins & Katz Family YMCA
1466 S Westgate Avenue
Los Angeles, Ca 90025
May her memory be a blessing.