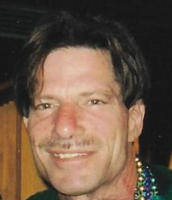 Scott Arnold Lewis
Scott Arnold Lewis
Born on Monday, March 21, 1960, beloved isson, brother, uncle, nephew, cousin, and friend Scott went to his final resting place in the early hours of Saturday, December 30, 2017, in Canoga Park, California. Born in Los Angeles, Scott was preceded in passing by his loving parents Howard Stanley Lewis and Thelma Lewis, and his sister Nancy Gail Lewis. Scott is survived by his brothers, Mitchell Allen Lewis (Michelle) and Lawrence Mark Lewis (Rosie) and his nephews Jeremy Brandon Lewis (Carrie), and Nicholas William Jacob Lewis. He also leaves behind his two cats, that he loved and cared for deeply, Tigger and Mariah. Scott attended religious (Hebrew) school, and became a Bar-Mitzvah while attending Congregation Beth Kodesh. He also really loved Jewish traditions and holidays. Scott could always be counted upon to light the Hanukkah candles every year. And Scott always made sure to have a mezuzah affixed to the doorpost wherever he lived. Sure enough, one was found on the doorpost of his last residence.
Scott truly enjoyed landscaping. He worked in this field for part of his life. He really did have a "green thumb." Scott truly had an amazing gift in this area. He took great pride, and rightfully so, of his plants and flowers. Scott also really loved music and going to concerts. He loved collecting the ticket stubs and buying the concert T-shirts. And he really loved his "Mardi Gras Beads." He was also a pretty big sports fan. He went to many different sporting events, including the 1984 Olympics in Los Angeles with his father, and he loved to collect the newspaper when an L.A. team won a championship.
And Scott never forgot his parents. He loved them both very, very much. In fact, he helped them out in many, many ways throughout the years, including taking care of them as they got older. Even after their passing, he still spoke of them often, and with great love and pride, as he did of other family members as well.
Scott also loved the outdoors and spent countless hours there, hiking, camping, and backpacking, with both family and friends. He also enjoyed cross-country skiing with family and friends. And, like his parents, Scott also enjoyed going to casinos and eating at buffets. He truly loved bowling and was in many leagues, sometimes with other family members. For a number of years, it seemed as if he practically lived at Canoga Park Bowl (now Winnetka Bowl). Scott even did stand-up comedy on a few occasions at Canoga Park Bowl, to a pretty good reception, too. Scott really had a heart of gold and he really loved speaking with people.
Scott was taken from us far, far too early, and will sorely be missed by all who knew him.
In lieu of flowers, donations can be made to your favorite charity, or consider planting a tree in Israel in Scott's memory (https://www.nationaljewishmemorialwall.com/plant-a-tree/ or https://www.shiva.com/trees-for-israel/)
בָּרוּךְ אַתָּה ,יְיָ אֱלֹהֵינוּ מֶלֶךְ ,הָעוֹלָם דַּיָּן הָאֱמֶת
Blessed art thou, O Lord our G-d, King of the universe, the True Judge.
For more information, please contact Malinow & Silverman, or you can contact the family directly, via text or voice at (818) 626-0142 or (818) 634-7450.
I'm Free
Don't grieve for me, for now I'm free,
I'm following the path G-d laid for me.
I took his hand when I heard his call,
I turned my back and left it all.
I could not stay another day,
To laugh, to love, to work, to play.
Tasks left undone must stay that way,
I've found that peace at the close of the day.
If my parting has left a void,
Then fill it with remembered joy.
A friendship shared, a laugh, a kiss,
Ah yes, these things I too will miss.
Be not burdened with times of sorrow,
I wish you the sunshine of tomorrow.
My Life's been full, I savoured much,
Good friends, good times, a loved one's touch,
Perhaps my time seemed all too brief,
Don't lengthen it now with undue grief.
Lift up your heart and share with me,
G-d wanted me now, He set me free.